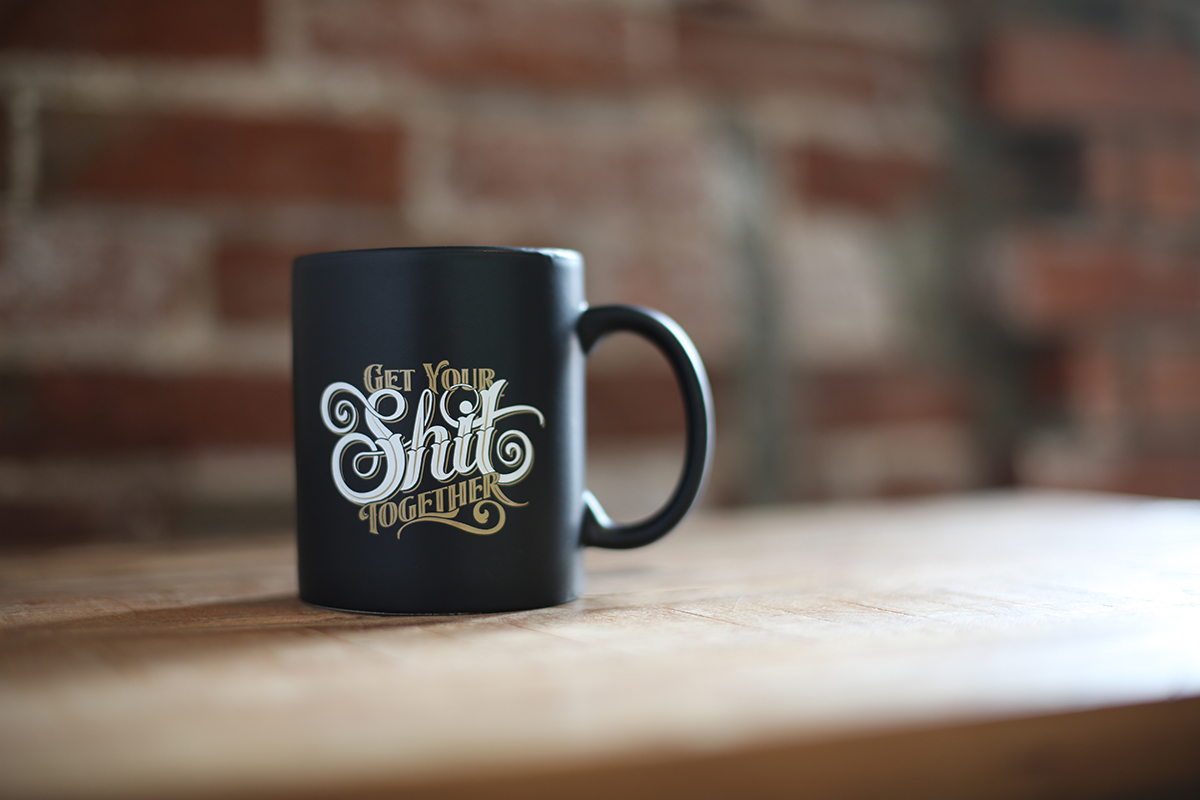 GYST Club
Are you ready to get your shit together? Membership to the GYST Club is a one time fee of $25. Your membership includes 1 FREE matte black 13 oz GYST coffee mug. This simple utilitarian tool is one of our best interventions, it's a daily reminder to keep grinding and it's our gift to you for becoming a member. But, we believe everyone should share in the responsibility and help others get their shit together. So if you would like to purchase multiple memberships on behalf of your friends, coworkers or loved ones who desperately need to get their shit together, by all means you should do so. Whether you need a simple daily reminder, or you plan to pay it forward, join the GYST Club and know that you'll be taking a stand to make lasting change for the common good. So what are you waiting for? Get Your Shit Together today!
Joint The Club, Get a Mug
MEMBERSHIP POLICY
The GYST Club membership is a one time nonrefundable fee of $25 USD. You can cancel anytime, but that kind of defeats the purpose of getting your shit together in the first place. Just saying.
FREE GIFT POLICY
You will receive one (1) free matte black 13 oz GYST coffee mug per membership. Your membership payment transaction and shipping address must be verified before any free promotion items can be shipped. You can purchase multiple quantities of memberships to distribute to your friends, coworkers or loved ones. If for any reason you do not wish to receive a free gift from the GYST Club, you can notify us by email at [email protected]
PRIVACY POLICY
We respect your privacy and we will never sell, rent, lease or give away your information (name, address, email, or any possible payment information we may obtain) to any third party. We will however spam you from time to time with GYST Club updates, you can unsubscribe at anytime.
SHIPPING
We offer free shipping to the 48 states in the continental U.S. International shipping will result in additional fees based on address. If your free gift or any other items shipped on behalf of the GYST Club are damaged during the shipping process, we do offer an exchange. We only replace items if they are defective in materials and workmanship under normal use by the original purchaser for a total of 5 business days after the delivery date. Justin McClure Creative makes no other express warranties. If you need to exchange it for the same item, send us an email at [email protected] and send your defective item to: 121 N Mead Ste 104, Wichita, Kansas, US, 67202.
WARRANTIES
This warranty does not cover (a) damage or failure caused by or attributable to abuse, misuse, failure to follow instructions, improper installation or maintenance, alteration, accident, Acts of God (such as floods or lighting), or excess voltage or current; (b) improper or incorrectly performed repairs by persons who are not an Authorized Service Facility; (c) consumables such as fuses or batteries; (d) ordinary wear and tear or cosmetic damage; (e) transportation, shipping or insurance costs; (f) costs of product removal, installation, set-up service, adjustment or reinstallation; and (g) claims by persons other than the original purchaser. Should a problem occurred that is covered by this warranty, send the product back to Justin McClure Creative 121 N Mead Ste. 104 Wichita, KS 67202 with proof of purchase, unless otherwise provided by law: (a) replace the product with the same or a comparable product. All replaced parts and products, and products on which an exchange is made, become the property of Justin McClure Creative. New or reconditioned parts and products may be used in the performance of warranty service. Repaired or replaced parts and products are warranted for the remainder of the original warranty period.